Epidemiology and Biostatistics MSc
Epidemiology and Biostatistics
Master of Science (MSc)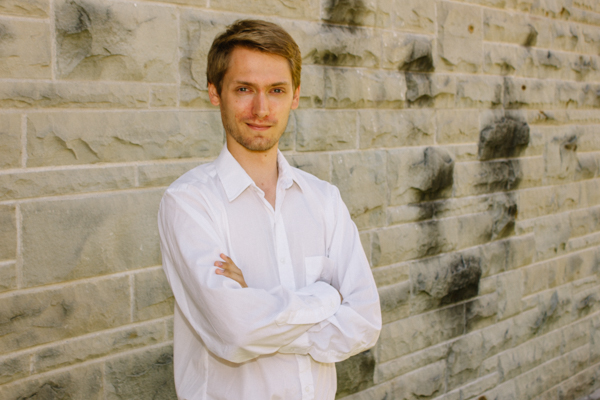 "The Epidemiology and Biostatistics program provides many of the skills that are necessary for me to get started in conducting research, both on my own and as part of a team. The department strives to produce competent epidemiologists, and while course heavy in the first year, the faculty are available to help and provide guidance to students for the remainder of their degree."
Supervisor: Dr. Janet Martin
Where is "home" for you?
Listowel, Ontario. A small town about an hour North of London.
Why did you come to Western for your graduate degree?
I chose to come to Western for my graduate degree because I knew the school and some people already in attendance. I heard that the program had a good reputation, and my current supervisor is a content expert in my area of interest. As an added bonus: it is close to home.
Describe your research.
Medical reversal is the phenomenon whereby new and better research – most often: appropriately designed and conducted randomized controlled trials – reveal that a medical practice, technology, or intervention does not work as well as, or is even more harmful than, was once thought. My supervisor and I are working towards establishing some method of predicting the likelihood of a medical practice being reversed in the future. This involves careful analysis of the many characteristics of research, both quantitative and qualitative, that are likely to lead to reversal.
What is your "dream" career?
My dream career is to be a full-time epidemiologist as part of a research team. In my co-operative work terms during my undergrad, I worked with several teams conducting health research in different hospitals and I loved the atmosphere of working as part of an interdisciplinary team.
What are you most passionate about?
I am passionate about discovering new experiences and travelling. My family grew up going on trips around the world and I have been extremely fortunate in meeting new people.
What's the best advice you could give to someone considering applying to your graduate program?
If you are considering applying to the Epidemiology and Biostatistics program at Western, take a look at our faculty: there are a range of specialties and expertise available. You do not need any prior epidemiological knowledge to do well in this program, as our professors and courses do an excellent job of working through concepts from the ground up.
Program Websites
Program Contact
Sarah Guerrero
(
epibio@uwo.ca
)
Academic Programs Coordinator
Department of Epidemiology and Biostatistics
Western University
Kresge Building Rm 201
London, Ontario N6A 5C1
t.
519-661-2111 ext. 86263
We offer MSc and PhD degrees in Epidemiology & Biostatistics. Students are exposed to a full breadth of policy-relevant methodologies from the fields of epidemiology, biostatistics, health services research, health economics, genetic epidemiology, and program evaluation.
Program Length
6 Terms (Full-time study)
Program Design
Full-time study or part-time study
Thesis-based
Funding Information
Applicants are encouraged to apply for the following scholarships (if eligible):
Admission Requirements
4-year honours degree (or equivalent)
Priority will be given to applicants with:
A min. average of A- (80% or 10/12) in the last 2 full-time years of education. Averages for part-time students will use the last 10.0 full credits (or equivalent).
Strong performance in a recent statistics course. (Our graduate program requires students to have taken a recent course in statistics. If a great deal of time has elapsed since your last statistical course, we recommend that your application include concrete examples of how you use statistical methods in your regular role at work.)
English Language Proficiency
Applicants whose first language is not English must furnish evidence of their proficiency in the use of the English language:
The Test of English as a Foreign Language (TOEFL). Minimum acceptable score is 580 (for paper-based test) or 237 (for computer-based test), or 90-92 overall with no individual score below 20 (for internet-based TOFEL) [Western's TOEFL ID is 0984].
The International English Language Testing Service (IELTS Academic). The minimum acceptable score is 6.5 out of 9 for each category, including overall score.
The Michigan English Language Assessment Battery (MELAB). Students must have at least 80 on each of the sections and an overall score of at least 85. Arrangements to write MELAB may be made online. Please note: The MELAB is no longer being offered by Michigan Language Assessment. However, Western University will continue to accept MELAB test reports that are newer than two years old as sufficient proof of English language proficiency.
Western English Language Centre. The requirement is successful completion of the High-Advanced level.
Please note: Our program will not extend conditional offers based on the anticipated completion of the English Language Proficiency testing.
Application Deadline
October 15 - Applications open.
January 15 - Applications deadline.
Acceptance notification by end of June.
Fields of Research
Biostatistics
Epidemiology