Geology
Doctor of Philosophy (PhD)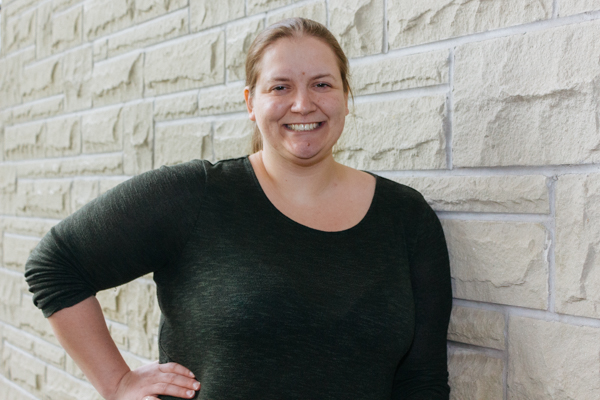 "My advice upon joining the program is to make connections with others in the department and the school to build your support network."
Why did you come to Western for your graduate degree?
I liked that my program encouraged interdisciplinary work, and allowed me to earn a geology degree while focusing on a planetary science project -- both aspects are included in the program and on my degree.
Describe your research.
Tethys, one of Saturn's moons has a large canyon. I'm trying to understand why there is a large canyon on an icy moon that should have no forces to make canyons with. Using images from the Cassini Spacecraft mission, I'm exploring how cracks form on those moons, and what conditions have to exist to have the necessary forces. I'm comparing features on the surface to modelled features, modelling crack formation, and looking at how impact craters might influence the features on the surface of Tethys.
What is it about your grad program that enables you to thrive?
My friends and lab mates are endlessly supportive, and there is a good community amongst the planetary science graduate students. My supervisor supports me, keeps me on track, and connects me to experts within the field to help with my research.
How has Own Your Future benefited you?
I've considered many paths forward and am continually reviewing where I want my career to go.
Own Your Future
has given me some things to think about, and ways to go forward in either academia, industry, or government. I've learned about proposal writing, journal article publishing, and other facets of the profession that you don't necessarily learn just through completing research.
What idea, suggestion do you have for the Western graduate community?
I think that the graduate experience is largely influenced by the community that surrounds you while you do it. We, as graduate students, have to seek that community and build it ourselves, but the friendship and support from your peers can be the thing that helps you keep going during difficult parts of your degree.
Program Websites
Program Contact
Amy Wickham
(
es-ugrd-grd-coordinator@uwo.ca
)
Department of Earth Sciences
Western University
Biological & Geological Sciences Building Rm 1026
London, Ontario N6A 5B7
t.
519-661-2111 ext. 84523
f.
519-661-3198
The objective of the PhD program is to provide the supervision, intellectual environment and resources to permit an aspiring scientist to develop and complete a thesis, involving a significant contribution to knowledge, on a specific project in Geology, or in a collaborative project involving one or more related disciplines. The scope of these research projects represents an enormous range of interests, from purely 'academic' to strongly 'applied' industrial and environmental topics.


The Own Your Future doctoral professional development program will help you become a career-ready graduate with the skills necessary to excel in your studies and achieve your future goals. By participating in the program, you will assess your own strengths and opportunities for growth, choose what skills you want to enhance during your time at Western, and learn how to articulate the skills you gained in your degree to optimize your future career opportunities. To learn more, visit www.uwo.ca/ownyourfuture.
Program Length
Program Design
Full-time study
Thesis-based
Funding Information
Applicants are encouraged to apply for the following scholarships (if eligible):
Tuition and Fees
Tuition and fee schedules (per term) are posted on the Office of the Registrar's website at http://www.registrar.uwo.ca/student_finances/fees_refunds/fee_schedules.html
Admission Requirements
Master's degree or equivalent from a university, college or institute, and provide evidence of research potential.
Achieved at least a 70% average in the Master's degree. An average of 78% in the Master's degree is necessary to be eligible to receive departmental funding.
Additional Requirements
Scans of transcripts from all post-secondary study completed.
A CV or resume.
Statement of Intent for graduate study.
Contact information for three referees, who will be asked to complete confidential letters of reference online.
English Language Proficiency
Applicants whose first language is not English must furnish evidence of their proficiency in the use of the English language:
We can offer a waiver of the English proficiency test when the applicant has completed at least one year of study at an accredited university where English is the medium of instruction. Waivers are not guaranteed and are judged on a case-by-case basis.
Application Deadline
Domestic and International Applicants:
Deadline is January 24 for the May 1 or September 1 start date.

Students can be accepted who apply after the January 24 deadline in exceptional circumstances. Please visit the department website for more information.
Acceptance notifications are processed on a rolling basis throughout the year beginning in March.
Fields of Research
Earth and Planetary Systems
Earth Evolution: Surface, Life and Climate
Resource Geoscience
Tectonic Processes and Crustal Dynamics