Geophysics
Master of Science (MSc)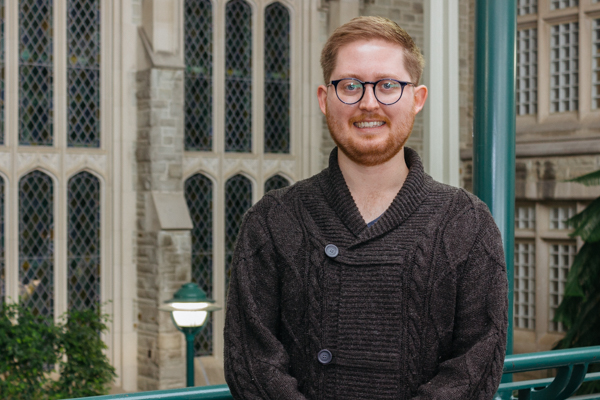 "Make sure that you know what your strengths and weaknesses are, and don't be afraid to talk about both."
Describe your research.
I am interested in spaceborne in-situ resource utilization on various scales. I am currently studying a collection of meteorites from the HED clan, which are associated with the asteroid 4 Vesta. We don't have any samples from 4 Vesta, so these meteorites are the next best thing. I compare the meteorites to rocks from mines on Earth to see how valuable resources might be represented on 4 Vesta.
Where's your favourite place on campus to work?
I like working at my desk in the graduate student offices in the Biological and Geological Sciences building. It's warm, it's quiet, and it's close to the labs that I use, so it's a great place to get work done.
What suggestion would you like to share with the Western graduate community?
I suggest that people go to more events on campus, even small ones, or volunteer at more events. Events that your department advertises are great because you'll probably see some familiar faces, and have the opportunity to meet lots of new people.
What is it about your grad program that enables you to thrive and be successful?
I'm given a lot of freedom to choose what I do and how I do it, with the guidance of my supervisors, of course. This allows me to explore tangents, and to go down all sorts of rabbit holes, which gives me a better idea of the bigger picture that my research fits into.
Program Websites
Program Contact
Amy Wickham
(
es-ugrd-grd-coordinator@uwo.ca
)
Department of Earth Sciences
Western University
Biological & Geological Sciences Building Rm 1026
London, Ontario N6A 5B7
t.
519-661-2111 ext. 84523
f.
519-661-3198
The project-based MSc program is designed to meet the growing demand in industry for highly-trained applied geologists. Project-based Master's students are an important component of Resource Geoscience Western, an endeavour that we are pursuing in collaboration with Industry Partners and which places us at the forefront of Earth Sciences in Canada across a broad range of applied Earth Science disciplines.
The thesis-based MSc program is designed to prepare young scientists for independent research, through the formulation of a research problem, the collection of data, development of analytical methods, review of literature, to writing of the final thesis. This process is the principal means by which our students learn the process of research. Learning through independent investigation is supplemented by instruction in a variety of graduate courses that may include formal lectures and laboratories, and various projects, research papers and seminars.
Program Length
3 Terms (Project-based)
6 Terms (Thesis-based)
Program Design
Full-time study
Project-based or thesis-based
Funding Information
Applicants are encouraged to apply for the following scholarships (if eligible):
Tuition and Fees
Tuition and fee schedules (per term) are posted on the Office of the Registrar's website at http://www.registrar.uwo.ca/student_finances/fees_refunds/fee_schedules.html
Admission Requirements
Four-year degree in science, engineering, math, computer science, geography, or a related discipline from an accredited university.
For course-based degree: achieved at least a 75% average over the last two years of the Bachelor's degree.
For thesis-based degree: achieved at least a 70% average over the last two years of the Bachelor's degree. An average of 78% over the last two years of the Bachelor's degree is necessary to be eligible to receive departmental funding.
Note: Equivalent or professional qualifications may be considered based on the standards of the discipline or profession.
Additional Requirements
Scans of transcripts from all post-secondary study completed.
A CV or resume.
Statement of Intent for graduate study.
Contact information for three referees, who will be asked to complete confidential letters of reference online.
English Language Proficiency
Applicants whose first language is not English must furnish evidence of their proficiency in the use of the English language:
We can offer a waiver of the English proficiency test when the applicant has completed at least one year of study at an accredited university where English is the medium of instruction. Waivers are not guaranteed and are judged on a case-by-case basis.
Application Deadline
Domestic and International Applicants:
Deadline is January 24 for a September 1 start date. Please note that students who apply to the thesis-based MSc can also start on May 1. We do not offer January or May admission for the one-year, course-based MSc.
Students can be accepted who apply after the January 24 deadline in exceptional circumstances. Please visit the department website for more information.
Acceptance notifications are processed on a rolling basis throughout the year beginning in March.
Fields of Research
Earth and Planetary Systems
Earth Evolution: Surface, Life and Climate
Resource Geoscience
Tectonic Processes and Crustal Dynamics