Health Information Science MHIS
Health Information Science
Master of Health Information Science (MHIS)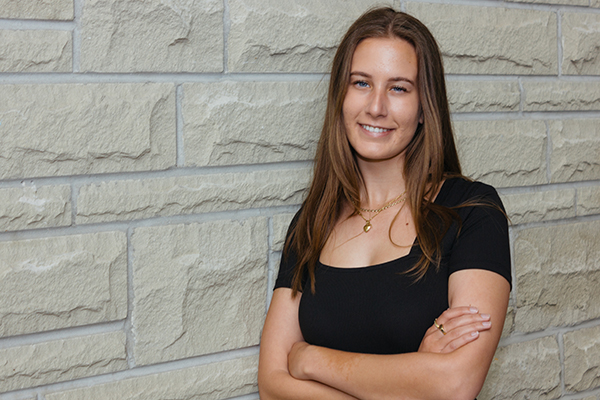 "All of the professors I've had are incredibly supportive and understanding of our circumstances as a grad student. They also provide excellent advice based on their experiences within academia."
Why did you come to Western for your graduate degree?
I was particularly attracted to the multidisciplinary and interdisciplinary nature of my graduate program at Western. I was in my fourth year of my undergraduate Health Studies degree at Western when I was doing research on different graduate programs at a variety of schools. However, what drove me back to Western was the self-directed nature of my program that can allow you to pursue your niche interest within the field of health information science. I now have friends in the program from a variety of different disciplines who perform research ranging from health informatics, artificial intelligence, public health, health policy, and then, myself, performing social media research.
Describe your research.
Broadly, I am examining the mechanisms by which social media platforms influence health behaviours. I am taking a particular look at the impact of social media influencers for my research, which will entail both participant interviews and a quantitative analysis. I hope to interview university students and capture an in-depth understanding as to the role influencers play in shaping and disseminating health information and misinformation.
Where's your favourite place on campus to work?
My favourite place on campus to do work has always been the FIMS building, even during my undergraduate degree. It has such large windows and I really benefit from the natural light to give me energy.
What is it about your grad program that enables you to thrive and be successful?
The professors in my grad program thus far have been one of the greatest contributors to my success. In my graduate program with smaller classes, it is much easier to not only get on a first-name basis with them, but also form a genuine relationship. Additionally, FIMS offers a mentorship program, and my mentor has not only become my friend, but also given me some of the greatest guidance during my time in the program.
What do you do in your spare time?
I love going on walks while listening to podcasts. I also enjoy reading, and going out to eat or get coffee with my friends and family.
What's the best advice you could give to someone considering applying to your graduate program?
Research potential supervisors early. I recommend doing thorough research once before you apply to the program, and a second time once you are a month into your first semester and have grasped the basics of the program. Make sure that there are several professors that you could envision yourself doing research with. There is potential for your mind to change as to what research you want to complete, and schedules fill up quickly.
Program Websites
Program Contact
Denait Haile
(
dhaile3@uwo.ca
)
Graduate Assistant
Faculty of Information and Media Studies Western University FIMS & Nursing Building, Room 2020 London, Ontario N6A 5B9
t.
519-661-2111x84666
The Master of Health Information Science (MHIS) program is a joint graduate program with the Faculty of Health Sciences. The program allows you to choose between a one-year course-based program, or a two-year thesis-based program. Both program options provide students with fundamental knowledge in health and health care, including: public health, health informatics and digital health, patient and professional information seeking behaviour, information ethics and policy. Learn at the intersection of healthcare and information management, policy, knowledge translation and clinical practice.
Program Length
3 Terms (Course-based)
6 Terms (Thesis-based)
Program Design
Full-time study
Course-based or thesis-based
Funding Information
Applicants are encouraged to apply for the following scholarships (if eligible):
Tuition and Fees
Tuition and fee schedules (per term) are posted on the Office of the Registrar's website at http://www.registrar.uwo.ca/student_finances/fees_refunds/fee_schedules.html
Admission Requirements
Honours BHSc, BSc, BA or equivalent from an accredited university.
78% overall average in the last two-full time years of the undergraduate degree.
Since this is an interdisciplinary program, students may be accepted with degrees in a variety of disciplines, including health sciences, social sciences, library and information science, journalism, and computer science so long as the student demonstrates that he or she has a solid academic preparation in some aspect of health (broadly defined).
English Language Proficiency
Applicants whose first language is not English must furnish evidence of their proficiency in the use of the English language:
Application Deadline
February 1 - Acceptance notification between late March and late April.