Health Information Science PhD
Health Information Science
Doctor of Philosophy (PhD)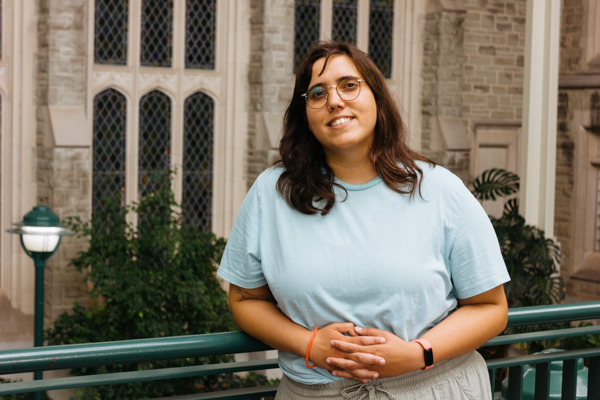 What is it about your grad program that enables you to thrive and be successful?
Its versatility. How I can adapt it to my research interests. How the faculty is comprised of different scholars and experts.
Where's your favourite place on campus to work?
The main library. It's so welcoming. I love spending time there.
Describe your research in 100 words or less.
I am very interested in studying death and dying in the context of health studies. How people learn about these processes, and how it can be beneficial to us and to our loved ones to normalize aging and dying as part of our health care and lifecycle.
What one thing would you like people to know about you?
That even though I'm very shy, I'm always up for collaborations and new projects. They don't have to be academic.
What is your "dream" career?
I'd love to keep on teaching and researching, that's for sure. Hopefully, I'll be able to incorporate more creative skills in my career in the near future.
What's the best advice you could give to someone considering applying to your graduate program?
Reach out to the chair, faculty members, and other students as soon as you decide to apply. People are very nice and helpful, and they'll give you helpful tips and advice.
Program Websites
Program Contact
Denait Haile
(
dhaile3@uwo.ca
)
Graduate Assistant
Faculty of Information and Media Studies Western University FIMS & Nursing Building, Room 2020 London, Ontario N6A 5B9
t.
519-661-2111x84666
The Doctoral Program in Health Information Science (PhD HIS) program is a research-intensive, joint graduate program with the Faculty of Health Sciences, designed for students who want to do independent original research in Health Information Science. The program consists of two required courses, the option to conduct Guided Reading courses or elective courses in the area of study, the passing of a comprehensive exam and completion and defence of a thesis.


The Own Your Future doctoral professional development program will help you become a career-ready graduate with the skills necessary to excel in your studies and achieve your future goals. By participating in the program, you will assess your own strengths and opportunities for growth, choose what skills you want to enhance during your time at Western, and learn how to articulate the skills you gained in your degree to optimize your future career opportunities. To learn more, visit www.uwo.ca/ownyourfuture.
Program Length
Program Design
Full-time study
Thesis-based
Funding Information
Applicants are encouraged to apply for the following scholarships (if eligible):
Tuition and Fees
Tuition and fee schedules (per term) are posted on the Office of the Registrar's website at http://www.registrar.uwo.ca/student_finances/fees_refunds/fee_schedules.html
Admission Requirements
Master's degree from a program in Health Information Science, Health Sciences, Library and Information Science, Media Studies, Health Psychology, Sociology, Computer Science, or a related field appropriate to the interdisciplinary strength of the program.
78% overall average in the last two years of study.
English Language Proficiency
Applicants whose first language is not English must furnish evidence of their proficiency in the use of the English language:
Application Deadline
February 1 - Acceptance notification between late March and late April