Kinesiology
Master of Science (MSc)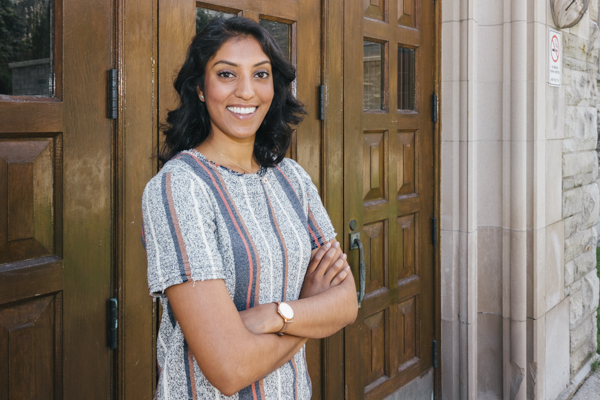 "The Kinesiology grad program offers many different sessions that can help to ease the transition into grad school, as well as learning sessions for what to do after grad school."
Supervisor:
Michelle Mottola
Why did you come to Western for your graduate degree?
I volunteered as a research assistant with my supervisor, Dr. Michelle Mottola, during the last two years of my undergrad. During the time spent in her lab, I developed an interest in research, specifically on pregnant women, and applied to work with her for a graduate degree!
Where's your favourite place on campus?
My supervisor has a lab on campus in which I have my own desk space, so I enjoy working there. I also enjoy the natural light and beautiful space of the Ivey building, as well as the International & Graduate Affairs Building.
Do you belong to any university or community groups?
I belong to the Exercise is Medicine Graduate Chapter at Western, where I sit on the Executive Committee as the Social VP. I used to be on the dance team - Dance Force.
What is it about your grad program that enables you to thrive and be successful?
My supervisor plays a significant role in helping me to thrive in grad school. Her guidance and support enables me to work toward success in my graduate program.
Have you taken any professional courses that Western makes available to grad students?
I participated in the Teaching Assistant Training Program through the Student Success Centre, and I found it helpful in developing my teaching and instructing skills.
Program Websites
Program Contact
Laurie Bodin
(
lmbodin@uwo.ca
)
Graduate Program Assistant
School of Kinesiology
Western University
3M Centre Room 2230
London, Ontario N6A 3K7
t.
519-661-2111 ext. 83075
Master's degree graduates can continue to the doctoral level in the same or related area within Kinesiology at Western, or elsewhere. Master's degrees can also lead to other professional programs such as medicine and physical therapy, or provide specialization and enhanced marketing, and related government fields.
Program Length
Program Design
Full-time study
Project-based or thesis-based
Funding Information
Applicants are encouraged to apply for the following scholarships (if eligible):
Admission Requirements
Graduation in Honours Kinesiology or equivalent with a first or high second class standing over the final two years or graduation from an accredited university with an equivalent degree and standing.
Graduation in other related fields with a first or high second class standing over the final two years and completion of any deficiencies that may be determined by the Kinesiology Graduate Affairs Committee.
English Language Proficiency
Applicants whose first language is not English must furnish evidence of their proficiency in the use of the English language:
Application Deadline
Please contact the Kinesiology Graduate Program for details about the application process and timelines, including specific information about scholarships and International applications.
Acceptance notifications are processed on a rolling basis throughout the year.
Fields of Research
Integrative Bioscience in Kinesiology