Law
Doctor of Philosophy (PhD)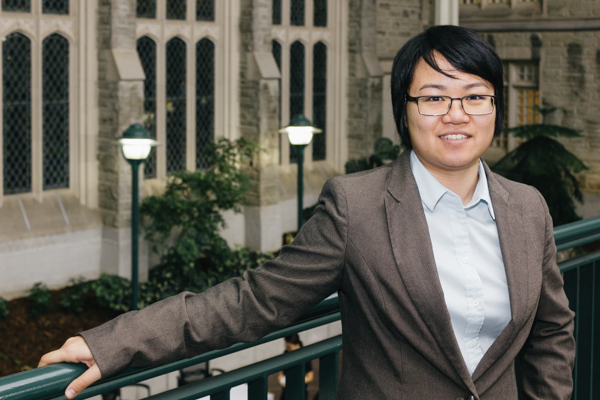 "I believe success in graduate studies really depends on the supervisor you get to work with, and I have been blessed to work with a supervisor who is both supportive and encouraging."
Supervisor: Valerie Oosterveld
Why did you come to Western for your graduate degree?
I chose Western for the opportunity to work with world-renowned international legal scholars, specifically Dr. Valerie Oosterveld, who is an expert in international criminal law and gender issues.
Do you belong to any university or community groups?
I am the President of the Graduate Law Students Association (GLSA) at Western Law. As President of the GLSA, I am primarily responsible for looking after graduate student interests. I also have voting rights on the Faculty Council and the Graduate Program Committee.
Describe your research.
Using a doctrinal approach, my thesis undertakes a comparative analysis of how the United Kingdom and Germany address the international legal principle of non-refoulement in their legislation concerning asylum seekers. I focus upon the United Kingdom and Germany because they are two of the largest asylum-receiving countries in the European Union during the time period under consideration. As such, their practices with respect to non-refoulement affect large numbers of asylum applicants and also likely influence how other countries interpret the non-refoulement obligation.
What is your "dream" career?
My dream career would be to work as a legal advisor at the United Nations High Commissioner for Refugees (UNHCR), Division of International Protection.
What's the best advice you could give to someone considering applying to your graduate program?
The best advice for someone applying to Western Law's graduate programs is to first do some research to see whether there is a supervisor at Western who is able to supervise their research. I would also advise prospective students to contact current graduate students who may be able to speak to the program and the general atmosphere of being a graduate student at Western.
Program Websites
Program Contact
Susuana Kwaning
(
lawgrad@uwo.ca
)
Graduate Program Assistant
Faculty of Law
Western University
Law Building Rm 239
London, Ontario N6A 3K7
t.
519-661-2111 ext. 88422
f.
519-850-2412
One of the primary aims of the program is to prepare promising scholars for careers as legal academics. Graduates of the PhD program will also be well positioned for the workplace in the private practice of law, business, the government or various Canadian and international non-governmental organizations that focus on law and legal policy.
The PhD program trains future leaders and scholars who will have a broad understanding of key theoretical frameworks and research methods that contribute to legal scholarship and practice.


The Own Your Future doctoral professional development program will help you become a career-ready graduate with the skills necessary to excel in your studies and achieve your future goals. By participating in the program, you will assess your own strengths and opportunities for growth, choose what skills you want to enhance during your time at Western, and learn how to articulate the skills you gained in your degree to optimize your future career opportunities. To learn more, visit www.uwo.ca/ownyourfuture.
Program Length
Program Design
Full-time study
Thesis-based
Funding Information
Applicants are encouraged to apply for the following scholarships (if eligible):
Tuition and Fees
Tuition and fee schedules (per term) are posted on the Office of the Registrar's website at http://www.registrar.uwo.ca/student_finances/fees_refunds/fee_schedules.html
Admission Requirements
Master's degree in Law with a B+ (78%) average.
Students from disciplines other than law may be considered if they demonstrate adequate preparation in legal theory and methodology (at least three full-course equivalents above the first-year level including one seminar).
Additional Requirements
A sample of academic writing, such as a research paper, thesis or a published journal article. The subject matter of the academic writing sample must be legal.
English Language Proficiency
Applicants whose first language is not English must furnish evidence of their proficiency in the use of the English language:
Application Deadline
January 15 - Acceptance notifications begin in January and continue until the middle of the summer
Late applications may be considered at the discretion of the Graduate Admissions Committee. If you are considering making a late application, please contact the Graduate Assistant (
lawgrad@uwo.ca
) to confirm there is space available in your chosen program.