Media Studies
Master of Arts (MA)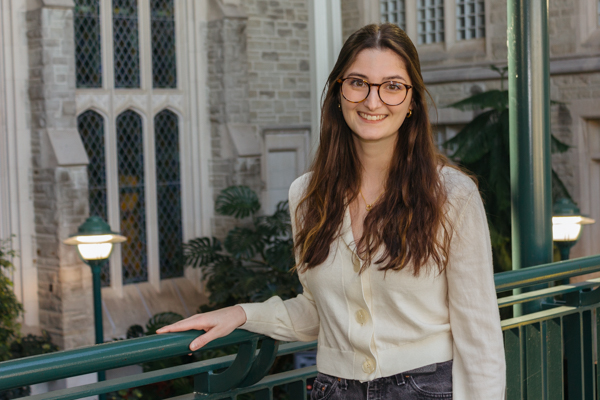 "I ultimately ended up choosing Western because I knew the program would directly align with my research interests, provide me with the invaluable teaching experience I was searching for, and give me a sense of community that I believe is necessary to thrive in grad school."
Why did you come to Western for your graduate degree?
I came to Western for my graduate degree because my undergraduate experience in FIMS had been nothing short of exceptional. Over those four years, I developed an itch for knowledge that truly surprised me, and I became extremely passionate about media studies and social justice issues. My mentors and professors not only encouraged me to continue to graduate school, but made me feel confident in and capable of doing so.
Describe your research.
Currently, my research focuses on an uncensored video-sharing site called LiveLeak, and how the site's raw footage of the Iraq surge spectacularizes masculinist narratives of violence. My aim is to analyze the efficacy of citizen journalism in producing unmediated wartime coverage, and the ways in which alternative media can help society access grains of truth in a deeply mediated world. At the same time, I also seek to problematize the usage of LiveLeak, and make feminist sense of the ways in which this medium and its representations—or lack thereof—directly affect women.
Have you worked as a teaching assistant?
Yes, I'm currently working as a TA for a first-year MIT introductory course. I've honestly loved being a TA so far, and really enjoy running weekly tutorials with my students. I think the Teaching Assistantship is an amazing learning experience that sometimes gets overlooked. I've found that being a TA has helped me improve on my communication, time-management, and public speaking skills; but, more importantly, I think it has also encouraged me to be the best version of myself. Although being a TA can be difficult, it motivates me to be more empathetic, understanding, self-reflexive, and sociable.
What is it about your grad program that enables you to thrive?
I think my grad program has really challenged me to confront problems I have never been forced to overcome throughout my academic career. With only five people in my program this year, we are in constant communication with our professors who can spend more time with us and our work. As a result, I have been personally challenged to think more critically about what I'm learning, become a better writer, and most importantly, become more confident in expressing my opinions and ideas. I was previously uncomfortable speaking up in larger conversations and meetings, but this program has truly helped me to find my voice, and be more confident in the work I produce.
Program Websites
Program Contact
Shelley Long
(
slong@uwo.ca
)
Graduate Programs Assistant
Faculty of Information and Media Studies
Western University
FIMS and Nursing Building, Room 2020
London, Ontario N6A 5B7
t.
519-661-4017
f.
519-661-3506
A one-year degree that cultivates critically engaged scholarship at the intersection of media, information, technology, and culture. The program offers opportunities to pursue advanced research or research-creation projects across media and disciplines, including the political economy of media, information studies, cultural studies, social movements and social justice, quantitative studies of digital media, critical data studies, media history, and consumer and promotional culture.
Graduates of the MA program will be well prepared to pursue doctoral studies in media studies, communication or other related disciplines, or to enter the workplace in a variety of communications-related industries, in research, consulting, education, and in the communications, policy and regulatory agencies of government.
Program Length
3 Terms (Full-time study)
6 Terms (Part-time study)
Program Design
Full-time study or part-time study
Project-based
Funding Information
Applicants are encouraged to apply for the following scholarships (if eligible):
Tuition and Fees
Tuition and fee schedules (per term) are posted on the Office of the Registrar's website at http://www.registrar.uwo.ca/student_finances/fees_refunds/fee_schedules.html
Admission Requirements
Four-year degree from an accredited university.
Minimum 78% overall average in the last two full-time years of the undergraduate degree.
English Language Proficiency
Applicants whose first language is not English must furnish evidence of their proficiency in the use of the English language:
Application Deadline
February 1 - Acceptance notification from mid March to late April