Neuroscience
Doctor of Philosophy (PhD)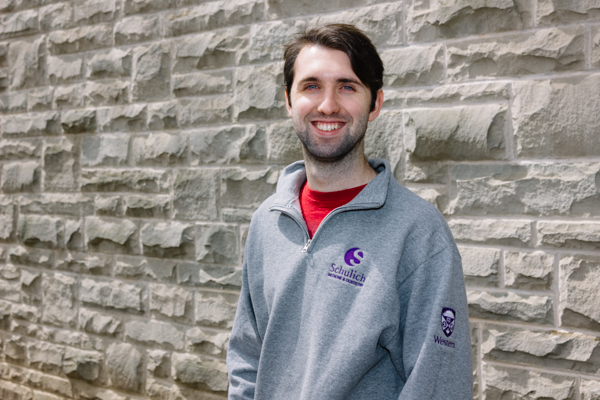 "You will truly get what you put into graduate studies in the Neuroscience program. The possibilities are endless for collaborations, but you have to seek them out. My advice is that you should be prepared to think, work, and put yourself out there in your graduate training environment, and you will be rewarded for doing so."
Supervisors: Dr. Arthur Brown and Dr. Michael Strong
What is it about your grad program that enables you to thrive and be successful?
The faculty is approachable and helpful for personal, academic and professional matters.
Describe your research in 100 words or less.
I study the role of tau protein in neuronal toxicity causing neurodegenerative diseases. Using cell culture, animal models, and human tissue from a variety of neurodegenerative diseases I am investigating one pathway to neuronal death and linking this to potential therapies for the treatment of disease. These studies will ultimately culminate in clinical trials potentially leading to the treatment of disease, but will also teach us about the ageing process in the brain, cellular stress responses, as well as differences between neuronal populations in the central nervous system. A thorough knowledge of the brain at the systems level, as well as molecular level is necessary for this research, as possible only through the neuroscience program.
What idea, suggestion, or comment would you like to share with the Western graduate community?
We are truly privileged to be graduate students here. The campus is beautiful, the people are friendly and helpful, and the research environment is energizing and world class. It is something to be proud of.
Do you belong to any university or community groups?
I am part of a radio show called
GradCast
. I am a member of the Schulich Graduate Students' Council, a member of
Making Waves
, and a member of
Let's Talk Science
.
What are you most passionate about?
Research. It is truly thrilling to know that when I look through the microscope and see something for the first time, I am the first person in the world to know what I know. However big or small the finding turns out to be, for a moment in time, I am the only person who knows it. It is a thrilling thought, and one I have always dreamed of having. It is the closest thing I can think of to being a modern day explorer, blazing a trail through unchartered territory.
What one thing would you like people to know about you?
I love animals. Except snakes. They scare me to death.
What's your favourite book?
Awakenings
by Oliver Sacks. It is a mix of neuroscience and humanity that first showed me how beautiful both science and people are when combined.
Program Websites
Program Contact
Susan Simpson
(
neuroscience@uwo.ca
)
Program Coordinator
Robarts Research Institute
Western University
Robarts Rm 3203
London, Ontario N6A 5K8
t.
519-661-2111 ext. 84039
The PhD in Neuroscience is a research intensive program that emphasizes the development of individual scholarship and excellence through the collaborative interactions within this interdisciplinary program. Students in the program experience a very wide exposure to all aspects of neuroscience research from cellular molecular to cognitive neuroscience. Student with an MSc usually complete this program within 4 years. Direct entry into the program by students with a BSc is possible for outstanding candidates.


The Own Your Future doctoral professional development program will help you become a career-ready graduate with the skills necessary to excel in your studies and achieve your future goals. By participating in the program, you will assess your own strengths and opportunities for growth, choose what skills you want to enhance during your time at Western, and learn how to articulate the skills you gained in your degree to optimize your future career opportunities. To learn more, visit www.uwo.ca/ownyourfuture.
Program Length
Program Design
Full-time study
Thesis-based
Funding Information
Applicants are encouraged to apply for the following scholarships (if eligible):
Admission Requirements
Honors or Masters degree in Neuroscience or in a related field with a strong research component, or an MD, DDS or DVS degree with some specialization in Neuroscience
At least an A (80%) over the final two years is recommended; this is equivalent to a high second class standing at some universities.
Direct Entry PhD applicants will require a minimum 85% over the final two years.
Additional Requirements
At present, only candidates with a degree from recognized universities are admitted directly into the PhD program.  All others interested in the PhD program are first admitted to the MSc program. They may transfer to the PhD program within the first 18 months, provided that their progress is excellent and that they have a project that could be developed into a PhD thesis.
English Language Proficiency
Applicants whose first language is not English must furnish evidence of their proficiency in the use of the English language:
Application Deadline
Domestic applicants - June 1, 2023.
International applicants - March 31, 2023.