Psychology
Doctor of Philosophy (PhD)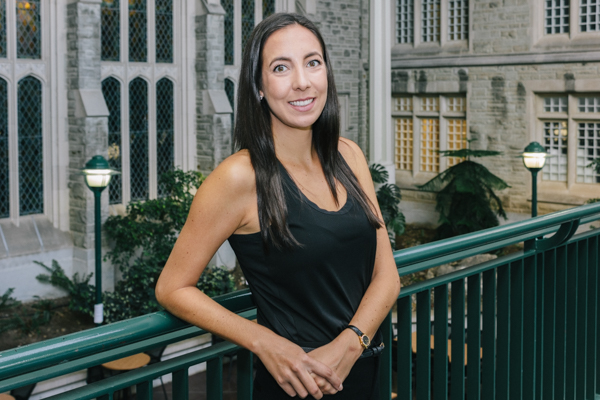 "It all comes down to my supervisors. Not only are they excellent mentors and incredible scientists, their connections have given me access to collaborators, seminars, conferences, and research facilities I would not get at any other institution."
Supervisors: Lisa M.D. Archibald and Marc Joanisse
Why did you come to Western for your graduate degree?
A big draw for me was the interdisciplinary nature of the lab I was to be working in: There are students pursuing degrees spanning health and rehabilitation sciences, clinical speech language pathology, and psychology (my current program). Working in a diverse lab has given me the ability to be able to frame and understand theoretical problems from multiple viewpoints.
Where's your favourite place on campus?
One of my favourite ways to take a break from researching is to walk over the Thames towards Westminster Hall, which is one of the most beautiful spots on campus
Describe your research.
I research how humans acquire language. We acquire language in infancy; this learning occurs rapidly and seemingly without much effort. One possible explanation for how we learn language lies in language itself: Our system of language is based on a series of patterns, from how words are formed to what makes a sentence. These patterns might be making it easier for us to acquire language. I combine behavioural and neuroimaging techniques to examine how the patterns within language are encoded and acquired in typical and atypical populations.
What is your "dream" career?
Whether I end up in academia or industry, my primary career goal is to make research accessible to others. A goal I focus on is being able to communicate scientific material in a meaningful way. For me, this could mean communicating my primary research findings in a way that is meaningful to clinicians, educators, or scientists across different disciplines. Or, it could be working outside of academia and translating scientific research into a useful medium in different industries.
Program Websites
Program Contact
Graduate Office
(
psygradinfo@uwo.ca
)
Department of Psychology
Western University
Social Science Centre Rm 7406
London, Ontario N6A 5C2
t.
519-661-2111 ext. 82064
f.
519-661-3961
Western's Department of Psychology is pleased to offer students graduate studies in many areas of psychology. The department has world-renowned faculty members, excellent support staff and facilities, all within a beautiful campus.
Western is a leading research-focused university that has been rated as providing among the very best of student experiences in Canada. The M.Sc. and Ph.D. graduates of our program have gone on to achieve distinguished careers in a wide variety of academic, private sector, and government positions throughout the world.


The Own Your Future doctoral professional development program will help you become a career-ready graduate with the skills necessary to excel in your studies and achieve your future goals. By participating in the program, you will assess your own strengths and opportunities for growth, choose what skills you want to enhance during your time at Western, and learn how to articulate the skills you gained in your degree to optimize your future career opportunities. To learn more, visit www.uwo.ca/ownyourfuture.
Program Length
Program Design
Full-time study
Thesis-based
Funding Information
Applicants are encouraged to discuss their readiness to apply for the following scholarships (if eligible) with their supervisor:
Tuition and Fees
Tuition and fee schedules (per term) are posted on the Office of the Registrar's website at http://www.registrar.uwo.ca/student_finances/fees_refunds/fee_schedules.html
Admission Requirements
A Thesis-oriented Master's degree in Psychology or related field. A Master's degree in Psychology (with content that is primarily Clinical) is required for admission into our Clinical program.
Minimum grade average of 78% or B+ in the Master's program.
English Language Proficiency
Applicants whose first language is not English must furnish evidence of their proficiency in the use of the English language:
Application Deadline
December 1 - Acceptance notification by the end of April.
Fields of Research
Clinical Science and Psychopathology
Cognitive, Developmental and Brain Sciences
Industrial/Organizational Psychology
Social, Personality and Developmental Psychology