Sociology
Doctor of Philosophy (PhD)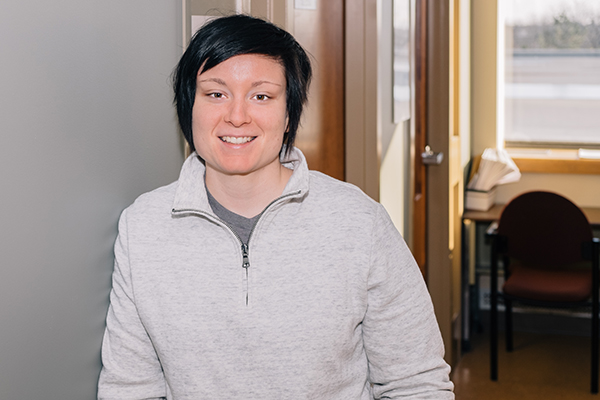 "The PhD program in Sociology was a perfect fit in terms of my research interests and the strengths of the faculty. My supervisor has been instrumental to my personal and professional growth, and I have also received valuable guidance from many other faculty members. The administrative staff are incredible, and I also love the campus and its many opportunities and resources."
Supervisor: Dr. Andrea Wilson
What's the best advice you could give to someone considering applying to your graduate program?
Be open-minded, take advantage of any opportunities that come along, know that your plans might change… and invest in a really good day-planner!
Where's your favourite place on campus to work/study/research? Why?
I love my office in the Department of Sociology because it is in an area with fellow PhD students and has a great set-up in terms of space, technology, desks, filing cabinets, etc.
What is it about your grad program that enables you to thrive and be successful?
The tremendous support I have received from my supervisor and the Sociology department as a whole.
What is your "dream" career?
It's still a toss up between academia and policy, but whichever route I take, I want to be doing impactful research that can be applied in various ways to make a real difference in the world.
What idea, suggestion, or comment would you like to share with the Western graduate community?
Explore your options and never limit yourself. Also – this is a unique time in your life and should be enjoyed and celebrated – don't let the stress we sometimes feel get in the way of fun!
Have you worked as a TA or RA? If so, how did this benefit your academic career?
I have worked as both and have developed my teaching and research skills as a result. I've learned a lot about interacting with students, developing less plans, working on large scale research projects, collaboration, organization, etc.
Do you engage in volunteer activities? If yes, what activities?
Yes, my dogs are registered therapy dogs and we visit seniors' homes.
What are you most passionate about?
Dogs (especially rescues), music, my niece, soccer, social change – especially working to end gender-based violence.
Program Websites
Program Contact
Sandra Vilovski
(
svilovsk@uwo.ca
)
Graduate Program Coordinator
Department of Sociology
Western University
Social Science Centre Rm 5312
London, Ontario N6A 5C2
t.
519-661-2111 ext. 85144
f.
519-661-3200
Our faculty include award-winning, internationally renowned scholars in Social Inequality, Aging & Health, and Population Studies. We also have research expertise in areas such as youth and identity, criminology, and work. Furthermore, we are home to the Centre for Population, Aging and Health. We are active participants in the collaborative specializations in Migration & Ethnic Relations and Transitional Justice & Post-Conflict Reconstruction. Moreover, our researchers benefit from the Research Data Centre housed at Western and one of the top academic libraries in the country.
Upon completion, our graduates work in a variety of academic institutions, government agencies and private businesses around the world. The department houses a graduate student computer lab, office space, classrooms, research space and a lounge. With all of these facilities located on the fifth floor of the Social Science Centre, our students enjoy an inclusive environment and easy access to faculty members and facilities.


The Own Your Future doctoral professional development program will help you become a career-ready graduate with the skills necessary to excel in your studies and achieve your future goals. By participating in the program, you will assess your own strengths and opportunities for growth, choose what skills you want to enhance during your time at Western, and learn how to articulate the skills you gained in your degree to optimize your future career opportunities. To learn more, visit www.uwo.ca/ownyourfuture.
Program Length
Program Design
Full-time study
Thesis-based
Funding Information
Applicants are encouraged to apply for the following scholarships (if eligible):
Admission Requirements
Master's degree or equivalent.
At least a high second class standing (B+) in the master's degree.
It is preferred but not essential that this Master's degree be in sociology. Applicants who have taken sociological theory, statistics and methods are preferred.
Additional Requirements
A writing sample (e.g. term paper, excerpt from MA thesis), maximum 20 double-spaced pages.
English Language Proficiency
Applicants whose first language is not English must furnish evidence of their proficiency in the use of the English language:
Application Deadline
January 15 - Acceptance notification in late March
Late applications are still accepted under certain conditions. Please visit Sociology - How to Apply for more information.
Fields of Research
Aging and the Life Course
Health and Health Inequality
Inequality, Power, and Social Regulation
Social Demography and Migration
Work, Occupations, and Professions