Visual Arts
Doctor of Philosophy (PhD)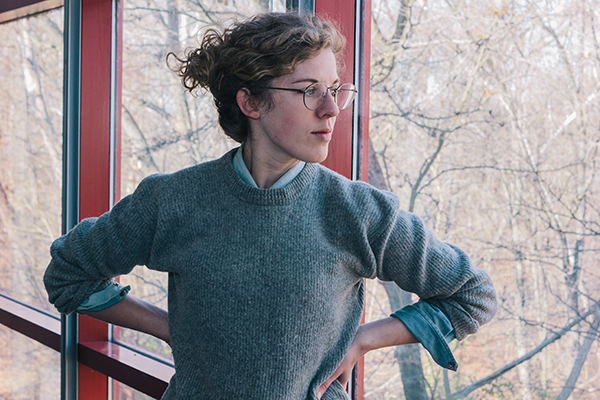 "The Visual Arts Department has an incredible faculty of artists and researchers who are engaged and available both within the University community and in London's art community at large. The graduate program itself blends academic research alongside studio art practice, resulting in a mix of art historians, curators, and studio artists. This kind of community is highly conducive to dialogue, as well as experimental research."
Supervisor: Dr. Joy James
Where did you complete your undergraduate degree?
I have undergraduate degrees in Literature (Memorial University) and Fine Art (Emily Carr University), and an MA in Art History from Western.
What's the best advice you could give to someone considering applying to your graduate program?
Connect with the people who are here to get a good sense of how your work and research can operate within and benefit from the community.
Why did you come to Western for your graduate degree?
I was interested in working with one specific instructor here, and I had heard good things about the Visual Arts Department's mix of studio and art history streams.
What is your "dream" career?
A cobbled-together mix of academic-based research and teaching alongside work in the community at large (arts publishing, writing, curating, public projects, etc.)
Have you worked as a teaching assistant or research assistant? If so, how did this benefit your academic career?
I've had consistent TAships throughout my MA and PhD program. It's an invaluable on-the-ground experience that teaches you vital communicative, pedagogical, and critical skills.
Do you engage in volunteer activities?
I'm on the Board of Directors at Forest City Gallery.
Where is "home" for you?
Newfoundland, but London's a great home-away-from-home.
What's your favourite book?
Roland Barthes'
Camera Lucida
.
What do you do in your spare time?
It involves some combination of a hot drink, chair, book, and/or internet.
Program Websites
Program Contact
Linda Meloche, Program Assistant
(
vagrads@uwo.ca
)
Department of Visual Arts
Western University
John Labatt Visual Arts Centre
London, Ontario N6A 5B7
t.
519-661-2111 ext. 83440
f.
519-661-2020
The Ph.D. in Art and Visual Culture provides advanced training in art history, visual culture, and creative practices in contemporary art and new media. The program prepares its graduates for professional careers in galleries, museums and other art world contexts; for university teaching and research; and for arts administration in the private and public sectors. The program is unique in that it emphasizes the interrelationship between art historical/visual culture scholarship and studio practice by fostering academic and creative research beside and in connection with each other.


The Own Your Future doctoral professional development program will help you become a career-ready graduate with the skills necessary to excel in your studies and achieve your future goals. By participating in the program, you will assess your own strengths and opportunities for growth, choose what skills you want to enhance during your time at Western, and learn how to articulate the skills you gained in your degree to optimize your future career opportunities. To learn more, visit www.uwo.ca/ownyourfuture.
Program Length
Program Design
Full-time study
Thesis-based
Funding Information
Applicants are encouraged to apply for the following scholarships (if eligible):
Admission Requirements
An MA degree in art history, visual culture or curatorial studies or an MFA or MVA with an average of at least 80% (A-).
Students with equivalent qualifications in relevant visual fields such as film or media studies will also be considered if they can demonstrate significant professional experience and accomplishments in the field.
Additional Requirements
Students must submit samples of their work. In the case of art history students, this will likely be a sample term paper, thesis chapter or publication. In the case of studio students, this would consist of photographic, video or digital documentation of their studio practice as well as a writing sample.
English Language Proficiency
Applicants whose first language is not English must furnish evidence of their proficiency in the use of the English language by a satisfactory* achievement within the last two years in one of the following:
*Programs at Western may require a higher minimum score than those listed above.
Students who are required to present evidence of proficiency in English must make their own arrangements to write the TOEFL, IELTS, MELAB or CAEL and to have the official results sent directly to the School of Graduate and Postdoctoral Studies by the testing agency. Those graduates from CultureWorks or Fanshawe College's ESL Program must provide official proof of graduation.
Exemptions
Other formal evidence of graduate level proficiency in English may be considered in lieu of these test scores. Students must contact the graduate program(s) to which they have applied in order to determine if test scores will not be required. A decision will then be made at the discretion of the School of Graduate and Postdoctoral Studies for exemption. For the French and Spanish programs only, evidence of proficiency in English is a degree requirement but not a requirement for admission.
Application Deadline
January 15 - Acceptance notification in March