Comparative Literature PhD
Comparative Literature
Doctor of Philosophy (PhD)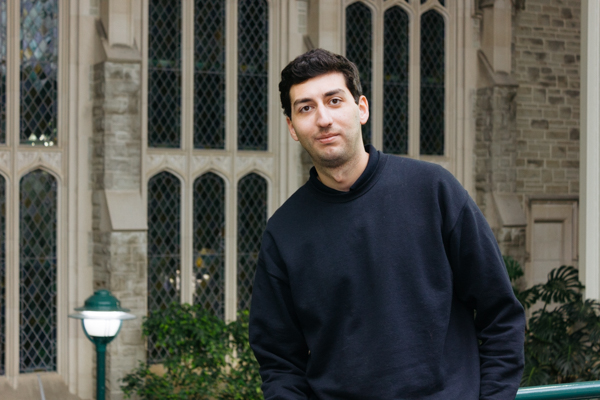 "My program's emphasis on supporting unique and diverse research topics, as well as the already incredibly diversely experienced faculty members and student body, really help me feel confident in my abilities and opens many doors for valuable advice and different perspectives." 
Where did you complete your undergraduate degree? 
At Lebanese American University (LAU) in Beirut, Lebanon. 
Why did you come to Western for your graduate degree? 
I chose Western for its welcoming atmosphere, London's unique location in southwestern Ontario, so close to larger cities while also neighboring beautiful farmlands and Lake Erie, as well as the university's multiple humanities departments encouraging breadth of experiences and interests. 
Where's your favourite place on campus to work?
Though an obvious choice for many already on campus, Weldon Library is my favorite place to do my research on any given day. What's less obvious is the seemingly endless private spots hidden away on every floor for students to discover. If you look hard and long enough, you're guaranteed to find a spot that fits just right for you. 
Have you worked as a TA? 
I have worked as a TA. My experiences so far have been immensely helpful in figuring out how to explain concepts and ideas that, though familiar to people in my field, might still be new to someone else. Also, working as a TA has helped me recognize that, though we all have different studies and research interests, we're all trying to learn more and be better, something I often take for granted! 
What's the best advice you could give to someone considering applying to your graduate program? 
Reach out and talk to someone, anyone, in the department. We're all more than happy to talk about the program, the university, and London with anyone who's interested! Also, take it easy. Things always seem stressful in the moment. With time, doors open themselves up to you. 
What do you do in your spare time?  
Take walks discovering London's many beautiful, wooded paths. 
Program Websites
Program Contact
Sylvia Kontra
(
skontra@uwo.ca
)
Graduate Affairs Assistant
Department of Modern Languages and Literatures
Western University
University College 2210
London, Ontario N6A 3K7
t.
519-661-2111 ext. 85846
f.
519-661-4093
Western's program in Comparative Literature has recognized strengths in various literatures (especially – but not limited to – American, Canadian, Classical, English, French & Francophone, German, Hindi, Italian, Portuguese, Romanian, Russian and Spanish). What distinguishes it from similar programs across the country (Toronto, Alberta, Montreal...) is the insistent focus on critical theory, postcolonial literature, East-West cultural relationships and inter-media studies (particularly visual art and film). Many of those teaching in the program are well established scholars of Medieval, Renaissance, Baroque and 18-20th-century cultures. While our Ph.D. candidates are usually employed as Teaching Assistants, some of them may be asked to offer courses of their own design in Western's undergraduate Comparative Literature and Culture program.


The Own Your Future doctoral professional development program will help you become a career-ready graduate with the skills necessary to excel in your studies and achieve your future goals. By participating in the program, you will assess your own strengths and opportunities for growth, choose what skills you want to enhance during your time at Western, and learn how to articulate the skills you gained in your degree to optimize your future career opportunities. To learn more, visit www.uwo.ca/ownyourfuture.
Program Length
Program Design
Full-time study
Thesis-based
Funding Information
Applicants are encouraged to apply for the following scholarships (if eligible):
Tuition and Fees
Tuition and fee schedules (per term) are posted on the Office of the Registrar's website at http://www.registrar.uwo.ca/student_finances/fees_refunds/fee_schedules.html
Admission Requirements
A minimum average of A- (80%) in a Master's degree.
Proficiency in two languages in addition to English, at a level sufficient to do graduate-level work on texts in those languages.


English proficiency at a minimum of IELTS overall score of 8 (please see ELP requirements below).
Additional Requirements
A sample of written work in English (no less than 10 pages, no more than 20 pages).
English Language Proficiency
Applicants whose first language is not English must furnish evidence of their proficiency in the use of the English language:
Application Deadline
February 1 - Acceptance notification at the beginning of April