Comparative Literature PhD
Comparative Literature
Doctor of Philosophy (PhD)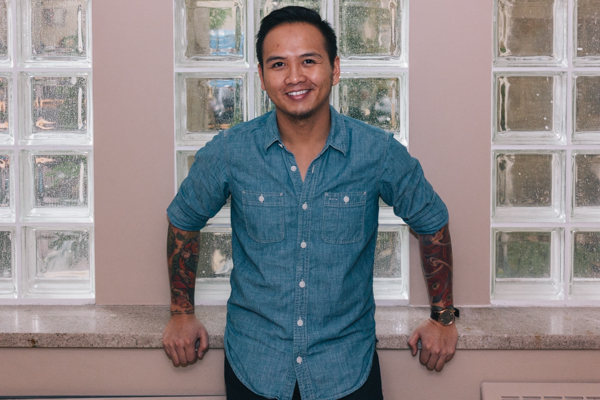 "Upon further research into the Comparative Literature program at Western University, I realized that what they offer as far as curricular content, pedagogical framework, departmental culture, and teaching/research/funding opportunities, were all a great fit for me and what I wanted to do."
Supervisor
: Professor James Miller
Where did you complete your undergraduate degree?
I completed my Bachelor of Arts in 2004 from the Ateneo de Manila University in Quezon City, Philippines, which is a Catholic university run by Jesuits. I majored in Political Science, and minored in Philosophy. In 2010, my family migrated to Canada, settling in Edmonton, Alberta, where I did my MA in Comparative Literature (University of Alberta).
Why did you come to Western for your graduate degree?
My MA supervisor from the University of Alberta, knowing that structural and administrative changes would impact the future of our program, helped me scout for universities where I could pursue further studies in Comparative Literature.
Describe your research in 100 words or less.
I am primarily interested in the sociogenesis of queer postcolonial subjectivities, that is, how queer identities of postcolonial peoples develop relative to that of non-colonized queers. To do this, I intend to look mainly at literary portrayals of queer characters in postcolonial Philippine literature, both in canonical and popular texts. Other areas that I'm interested in and where I've done some research are the tattooed/modified body as semiotic text, as well as reading science fiction as postcolonial narratives of displacement and diaspora.
What's the best advice you could give to someone considering applying to your graduate program?
Soak it all in. There's a lot of opportunities for professional and personal growth if you just keep an open mind. There's a whole world outside your research, so say "yes", be involved, and devote as much of your time to helping others as you do for your studies. That said, don't forget to take care of yourself and to make time for personal pursuits—they will keep you grounded and sane!
Have you worked as a TA or RA? If so, how did this benefit your academic career?
I have TA'd for a number of courses, and I've also been invited to give lectures on gender and sexual politics. I've always viewed being a Teaching Assistant as a way to contribute by helping share what knowledge I have with others; for me, it helps round out the graduate student experience, which tends to be very self- or own-research-centered. In a way, being a TA is also a way of learning, not just in terms of pedagogical paradigms or assessment and evaluation techniques (those are important corollaries of course), but also in terms of exercising self-reflexivity about how we hold ourselves and our views in a professional setting.
What are you most passionate about?
Learning for learning's sake. I go out of my way to tell people to have a personal stake in their learning and to savour the educational experience. I believe success follows from there.
What do you do in your spare time?
I am an avid baker, an amateur foodie, a tattoo enthusiast, a frequenter of used bookstores, a closet poet, and a student of life.
What one thing would you like people to know about you?
That underneath all the tattoos is a nice guy who is just trying to make it through—and not always successful at—adulting!
Program Websites
Program Contact
Sylvia Kontra
(
skontra@uwo.ca
)
Graduate Affairs Assistant
Department of Modern Languages and Literatures
Western University
University College 2210
London, Ontario N6A 3K7
t.
519-661-2111 ext. 85846
f.
519-661-4093
Western's program in Comparative Literature has recognized strengths in various literatures (especially – but not limited to – American, Canadian, Classical, English, French & Francophone, German, Hindi, Italian, Portuguese, Romanian, Russian and Spanish). What distinguishes it from similar programs across the country (Toronto, Alberta, Montreal...) is the insistent focus on critical theory, postcolonial literature, East-West cultural relationships and inter-media studies (particularly visual art and film). Many of those teaching in the program are well established scholars of Medieval, Renaissance, Baroque and 18-20th-century cultures. While our Ph.D. candidates are usually employed as Teaching Assistants, some of them may be asked to offer courses of their own design in Western's undergraduate Comparative Literature and Culture program.


The Own Your Future doctoral professional development program creates career-ready graduates with the Power Skills necessary to excel in their studies and achieve their future goals. Assess your own strengths and opportunities for growth and focus on what you want to get out of your time here at Western. To learn more, visit www.uwo.ca/ownyourfuture.
Program Length
Program Design
Full-time study
Thesis-based
Funding Information
Applicants are encouraged to apply for the following scholarships (if eligible):
Admission Requirements
A minimum average of A- (80%) in a Master's degree.
Proficiency in two languages in addition to English, at a level sufficient to do graduate-level work on texts in those languages.


English proficiency at a minimum of IELTS overall score of 8 (please see ELP requirements below).
Additional Requirements
A sample of written work in English (no less than 10 pages, no more than 20 pages).
English Language Proficiency
Applicants whose first language is not English must furnish evidence of their proficiency in the use of the English language:
Application Deadline
February 1 - Acceptance notification at the beginning of April