Economics
Doctor of Philosophy (PhD)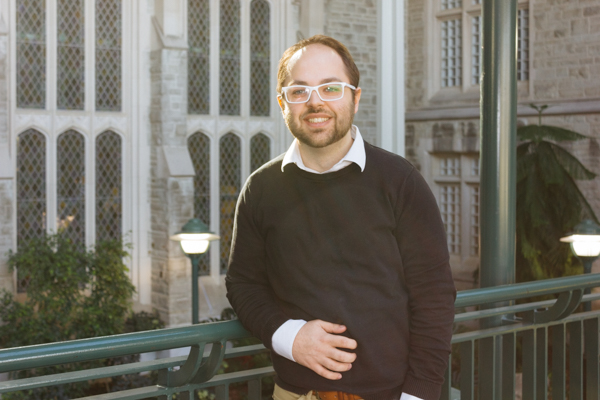 "I am most passionate about teaching economics. I think learning economics helps students make better choices and understand the world. Because I think the aggregate benefit of students learning the principles of economics is immeasurable, I consider any chance I get to teach them a privilege."
Why did you come to Western for your graduate degree?
At least three reasons contributed to my decision to complete my MA and PhD at Western. First, among Canadian universities, Western is high-ranking for graduate economics. Second, I was attracted to the class size; a smaller cohort (relative to the University of Toronto's program) meant a tighter network among faculty and graduate students. And third, Western offered me a generous funding package.
Describe your research.
My research is conducted in the branch of economics called labour economics, and more specifically, in the field dedicated to education. I'm primarily interested in how students choose whether to obtain post-secondary education; how these choices pay off in the labour market; and how government policy can affect these decisions. For the main chapter of my dissertation, I am investigating how changes to the design of the Canada Student Financial Assistance Program—formerly called the "Canada Student Loans Program"—would affect student loan borrowing and post-secondary education decisions.
What's the best advice you could give to someone thinking about applying to your program?
Begin by specifying your goal (e.g., becoming an economics professor). Collect as much information about how to achieve your goal as you can. Using the information, construct a plan that gives you the best chance of achieving your goal. If your plan involves applying to graduate studies in economics at Western, apply.
What is your "dream" career?
My dream is to teach economics at a Canadian university. I am still deciding if I'd like to be a university lecturer or a professor. In the future, I'd also like to write an economics textbook, and I'd like to create a series of YouTube videos about the content learned in first-year economics.
What would you like to share with the Western graduate community?
As graduate students, we're all susceptible to living in "echo chambers" based on the demanding requirements of our programs. When you're speaking to someone from outside your department, remember that the other person is an awesome resource in thinking about problems differently from how you and your colleagues do.
Program Websites
Program Contact
Sandra Augustine
(
econ-gradcoordinator@uwo.ca
)
Graduate Coordinator
Department of Economics
Western University
Social Science Centre Rm 4074
London, Ontario N6A 5C2
t.
519-661-2111 ext. 83505
f.
519-661-3666
Western Economics offers a world-class PhD program, featuring an exceptional faculty as well as access to superb facilities. The program provides a rigorous, stimulating and collegial training environment designed to help students develop a strong understanding of the theory and applied tools of economics, superior research skills, and an ability to apply this training to real world questions or problems.


The Own Your Future doctoral professional development program will help you become a career-ready graduate with the skills necessary to excel in your studies and achieve your future goals. By participating in the program, you will assess your own strengths and opportunities for growth, choose what skills you want to enhance during your time at Western, and learn how to articulate the skills you gained in your degree to optimize your future career opportunities. To learn more, visit www.uwo.ca/ownyourfuture.
Program Length
Program Design
Full-time study
Thesis-based
Funding Information
Applicants are encouraged to apply for the following scholarships (if eligible):
Tuition and Fees
Tuition and fee schedules (per term) are posted on the Office of the Registrar's website at http://www.registrar.uwo.ca/student_finances/fees_refunds/fee_schedules.html
Admission Requirements
Master's degree.
Minimum 78% average in MA courses.
English Language Proficiency
Applicants whose first language is not English must furnish evidence of their proficiency in the use of the English language:
Application Deadline
Acceptance notification approximately 6-8 weeks after the deadline.
Fields of Research
Development Economics
Econometrics
Industrial Organization
International Economics
Labour Economics
Macroeconomics/Monetary Economics
Microeconomic Theory
Public Economics