History
Doctor of Philosophy (PhD)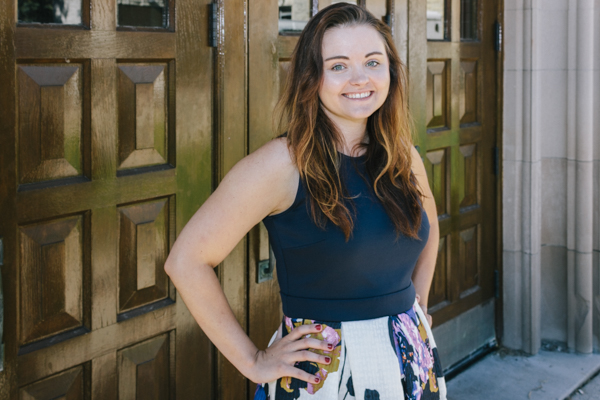 "Western is a great place to learn about how the field of history is evolving, and I knew that coming here I would be able to work alongside exceptional professors."
Supervisor: Robert Wardhaugh
Describe your research
My PhD dissertation is on single mothers in Ontario from 1945 to 1980. Specifically, it explores the options available to single mothers and the shifting conceptions of how the welfare state and Canadian society viewed these women. Single mothers are often seen as "problem women" because they do not conform to the nuclear family model. I challenge this idea by looking at welfare programs for single mothers and their lives during this period. I look at the shared experiences of divorced, unmarried, and widowed women, and the difficulties they faced.
Where is "home" for you?
Kelowna, British Columbia.
Have you worked as a TA or RA?
I was a TA for first year history the last two years, and am looking forward to being a TA for the second year Canadian history survey this year. This opportunity has given me the chance to engage students with different historical ideas. I have learned how to teach writing and critical thinking skills, and it has made me think differently about my research.
What's your favourite book?
I would say Nancy Christie's Engendering the State. It had the largest impact on my understanding of the world and my research. I also love Harry Potter and the Goblet of Fire.
What is your "dream" career?
I see myself doing any number of things, teaching, research, working in the public sector, all of these would be excellent careers. But I am really passionate about gender issues because I study women's history, and so my dream job would be working for some kind of non-profit that advocates for women's reproductive rights.
Program Websites
Program Contact
Kara Brown
(
kbrow@uwo.ca
)
Graduate Program Advisor
Department of History
Western University
Lawson Hall Rm 2201
London, Ontario N6A 5B6
t.
519-661-2111 ext. 84961
f.
519-661-3010
The Doctoral Program in History at Western trains select graduate students to be professional historians—world-class researchers, teachers, and scholars. Our faculty has deep strengths in Canadian history, the history of international relations and conflict, environmental history, and public history, with courses and eminent scholars in many other areas as well. And we are a recognized leader in the new digital history and digital humanities.


The strength and reputation of our PhD program is a result of our internationally renowned faculty, world-class facilities, and the students who thrive in an intellectually stimulating environment. Western is pleased to offer Own Your Future, a unique Doctoral professional development program that supports students in their academic studies and career engagement. Through Own Your Future, students will develop insight into their current and evolving skill set. To learn more, visit www.uwo.ca/ownyourfuture.
Program Length
Program Design
Full-time study
Thesis-based
Funding Information
Western Funding Package: A Graduate Teaching Assistant (GTA) or Research Assistant (RA) appointment and a Western Graduate Research Scholarship. Values vary by student and year.
Applicants (domestic and international) are encouraged to apply for the following scholarships:
Admission Requirements
M.A. degree in History from an accredited university.
80% average or better on all graduate courses.
Evidence of strong research potential.
Application Deadline