History
Doctor of Philosophy (PhD)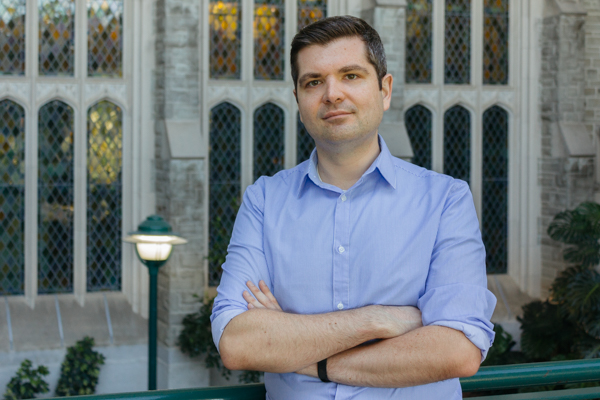 "The appeal of Western to me was the reputation of the History Department. We have a lot of strong scholars in both Canadian and American history. As I study both subjects, that had a strong appeal to me."
Supervisor: Aldona Sendzikas
Describe your research.
My dissertation examines elections in Canada and the United States in the early Cold War era; more specifically, my time period ranges from 1949-1963. It argues that stereotypical masculine archetypes, rationalized as necessary to defend against communism, were considered by the voters as a serious factor in selecting prime ministers and presidents. It uses electoral politics as a gateway to examine the concept of 'domestic containment', and its extension into the political sphere. Furthermore, my bi-national approach in contrasting Canada and the United States, demonstrates that Canadian politics and society were heavily influenced by American Cold War culture.
What is your "dream" career?
My dream career is probably political in the long run. I love being in the classroom and helping undergraduate students explore ideas, challenge preconceptions, and to try to think of historical events from differing perspectives. At the same time, there is enough of a political historian in me, that at some point I would like to give back. Elections are a bit of an obsession with me – on any given day you'll find me talking about some new poll, electoral map, or riding prediction – historical or present day.
Have you worked as a Teaching Assistant?
By far, my experience as a TA has made me a better communicator. I improve each year on pedagogical methods that work, and reassess on things that absolutely failed. I also find that I learn a lot from my students. It's cliché, but you can teach the same topic to multiple classrooms, multiple times, and still be surprised by a new or divergent opinion.
What's your favourite book?
It's a little unorthodox, but A Clockwork Orange by Anthony Burgess. The first time I read it, the language he created sucked me in. I also think there are a lot of really interesting Cold War and historical themes in the book. I have always said when I design a course on the history of the Cold War, it will include some period literature – A Clockwork Orange will be on that syllabus, along with 1984.
What's the best advice you could give to someone applying to your graduate program?
A PhD is a long process, and it has to be something you want to do for yourself. You should also have a love of learning, and a question/topic you want to explore. Be prepared, however, for your topic to grow and change as you move through the program and evolve as a student/researcher.
Program Websites
Program Contact
Kara Brown
(
kbrow@uwo.ca
)
Graduate Program Advisor
Department of History
Western University
Lawson Hall Rm 2201
London, Ontario N6A 5B6
t.
519-661-2111 ext. 84961
f.
519-661-3010
The Doctoral Program in History at Western trains select graduate students to be professional historians—world-class researchers, teachers, and scholars. Our faculty has deep strengths in Canadian history, the history of international relations and conflict, environmental history, and public history, with courses and eminent scholars in many other areas as well. And we are a recognized leader in the new digital history and digital humanities.


The Own Your Future doctoral professional development program creates career-ready graduates with the Power Skills necessary to excel in their studies and achieve their future goals. Assess your own strengths and opportunities for growth and focus on what you want to get out of your time here at Western. To learn more, visit www.uwo.ca/ownyourfuture.
Program Length
Program Design
Full-time study
Thesis-based
Funding Information
Applicants are encouraged to apply for the following scholarships (if eligible):
Admission Requirements
M.A. degree in History from an accredited university.
80% average or better on all graduate courses.
Evidence of strong research potential.
Application Deadline
Acceptance notification begins in March.
The Graduate Committee will begin reviewing applications on February 1 and will stop reviewing applications on April 30. Applications received on or before February 1 will receive full consideration for scholarships.