Musculoskeletal Health Research Collaborative Specialization
Musculoskeletal Health Research
Collaborative Specialization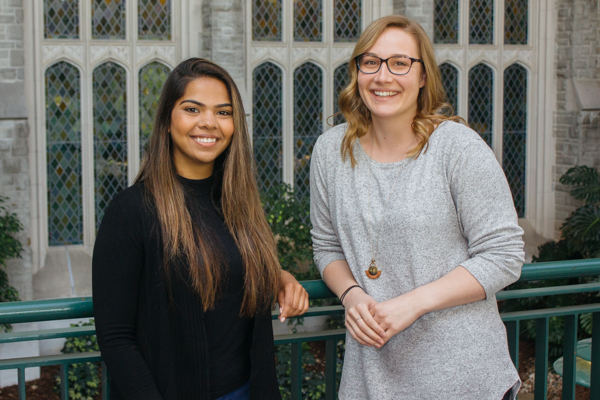 "The Collaborative Specialization in Musculoskeletal Health Research (CMHR), gave me the tools to conduct and understand transdisciplinary research through specialized courses, workshops and seminars." -Nadia
What is it about your grad program that enables you to thrive and be successful?
My supervisors and advisory committee allow me to be successful. Additionally, through the Bone & Joint Institute (BJI) and the Collaborative Specialization in Musculoskeletal Health Research (CMHR), many Principal Investigators (PI) have been brought together to engage in more collaborative research programs. Thus, allowing trainees to seek advice and expertise from many PIs throughout their training. -Holly
Why did you come to Western for your graduate degree?
I came to Western for my graduate degree for three reasons: my supervisors are leading experts in their respective fields and I really wanted to work with them; the research environment at the Bone & Joint Institute (BJI) created a highly collaborative environment which I thought was the way to address important research questions; and I loved my project. -Nadia
Have you taken any professional development courses?
As part of the Bone & Joint Institute's CMHR program, we are required to take part in workshops put on by Ivey Business School. These workshops provide trainees with a different take on science and where a background in research may take you. Western also provides an Own Your Future program for PhD students that provides workshops on health and wellness, as well as opportunities to learn about careers outside of academia. -Holly
What's the best advice you could give to someone considering applying to your graduate program?
My best advice would be to take the time to visit many different labs, and speak with many different professors and graduate students to get a good idea of the environment and all the interesting work being done. Also, I would encourage them to join CMHR through BJI – it's been a truly enriching experience for me. -Nadia
Program Websites
Program Contact
Shannon Woodhouse
(
westers.bji@uwo.ca
)
Dr. Sandy Kirkley Centre for Musculoskeletal Research
Western University
University Hospital Rm B6-200
London, Ontario N6A 5A5
t.
519-685-8500 x34567
Participating Degrees
The Collaborative Specialization in Musculoskeletal Health Research will develop scientists with the research and leadership skills necessary to build transdisciplinary research teams focusing on integrated therapeutic, surgical and rehabilitative approaches for the management of bone and joint diseases.
Specifically, the program's purpose is to:
Enhance the number of trainees involved in transdisciplinary musculoskeletal health research
Support the career advancement of trainees Foster the development of future leaders in Canadian health care, science and technology
The Collaborative Specialization in Musculoskeletal Health Research is a unique specialization in Canada, and is an add-on to the already well-established graduate programs participating with our specialization.
Program Length
Program Design
Full-time study
Thesis-based
Funding Information
The Collaborative Specialization does not provide additional funding beyond what the student receives through their home department.
Applicants (domestic and international) are encouraged to apply for the following scholarships:
Tuition and Fees
Tuition and fee schedules (per term) are posted on the Office of the Registrar's website at http://www.registrar.uwo.ca/student_finances/fees_refunds/fee_schedules.html
Admission Requirements
Current enrollment in a thesis-based graduate program at Western University in one of the participating programs listed on the program website.
Student must be in good academic standing in their home department.
Student should be within the first year of study in the home department program.
Permission of home department supervisor to participate in the Collaborative Specialization.
Additional Requirements
Student must be completing research in the home department that is relatable or has definable impact on musculoskeletal research, as identified and defined by the student.
Application Deadline
July 15 - Acceptance notification in early August
Applications received after the deadline may still receive consideration.