Musculoskeletal Health Research Collaborative Specialization
Musculoskeletal Health Research
Collaborative Specialization (Collaborative Specialization)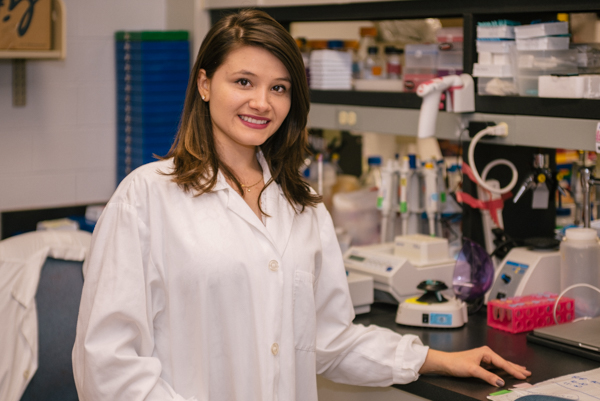 "It has been a great honour to be part of Western's Physiology and Pharmacology program, and the Musculoskeletal Health Research collaborative specialization. It has proven to be an innovative and enlightening experience working alongside the talented professors and students."
Supervisor: Frank Beier
Where did you complete your undergraduate degree?
Brazil (city: Bauru, Sao Paulo, Universidade do Sagrado Coracao – USC)
Why did you come to Western for your graduate degree?
I wanted to study disease, and I became interested in osteoarthritis in my undergraduate program. When I did further research, I discovered that in Brazil we don't have much understanding about osteoarthritis and there is no funding available. At Western, there is a lot of opportunity to gain experience and further my career.
Where's your favourite place on campus to work/study/research?
My favourite place to work is in Frank Beier's Lab. The environment is essential for my studies, and I feel really focused in the lab. It is the place where I've been spending most of my time working on my research project. It's like home to me.
What is it about your grad program that enables you to thrive and be successful?
I'm in the Department of Physiology and Pharmacology that is known for wide research activity, designed to train leaders in research to amplify the knowledge of different diseases through analysis, innovation, and insight.
Also, I'm enrolled in the The Collaborative Specialization in Musculoskeletal Health Research, which is unique in Canada. The specialization includes multiple Faculties at Western University with participation from over 60 faculty members. All the trainers engage in musculoskeletal research seminars, annual research retreats, and courses.
By having access to expertise across multiple disciplines, the Collaborative Specialization in Musculoskeletal Health Research has training opportunities to translate discoveries that will help to better understand musculoskeletal diseases and improve health worldwide.
What is your "dream" career?
To become an investigator/scientist in a disease field where I can help the community with a greater understanding of how to improve a treatment with drugs and therapy.
What's the best advice you could give to someone considering applying to your graduate program?
Be a critical and creative thinker, be personally effective, a good communicator, and listen to feedback from your peers, supervisors, and junior researchers. You also need to demonstrate self-understanding and a willingness to build your personal skills. I think the most important thing in graduate studies is to develop and maintain cooperative networks and working relationships with your supervisors, colleagues, and peers within the institution and the wider research community.
Where is "home" for you?
Bauru (my hometown) Sao Paulo (State) in Brazil
What are you most passionate about?
One of my greatest passions is helping others. I like helping people find solutions that meet their specific needs.
What one thing would you like people to know about you?
Humility is the most important quality a person can have.
Program Websites
Program Contact
Samantha Mundy
(
scolli72@uwo.ca
)
Administrative Assistant
Dr. Sandy Kirkley Centre for Musculoskeletal Research
Western University
University Hospital Rm B6-200
London, Ontario N6A 5A5
t.
519-661-2111 ext. 34477
The Collaborative Specialization in Musculoskeletal Health Research will develop scientists with the research and leadership skills necessary to build transdisciplinary research teams focusing on integrated therapeutic, surgical and rehabilitative approaches for the management of bone and joint diseases.
Specifically, the program's purpose is to:
Enhance the number of trainees involved in transdisciplinary musculoskeletal health research
Support the career advancement of trainees Foster the development of future leaders in Canadian health care, science and technology
The Collaborative Specialization in Musculoskeletal Health Research is a unique specialization in Canada, and is an add-on to the already well-established graduate programs participating with our specialization.
Program Length
Program Design
Full-time study
Thesis-based
Funding Information
The Collaborative Specialization does not provide additional funding beyond what the student receives through their home department.
Applicants (domestic and international) are encouraged to apply for the following scholarships:
Admission Requirements
Current enrollment in a thesis-based graduate program at Western University in one of the participating programs listed on the program website.
Student must be in good academic standing in their home department.
Student should be within the first year of study in the home department program.
Permission of home department supervisor to participate in the Collaborative Specialization.
Additional Requirements
Student must be completing research in the home department that is relatable or has definable impact on musculoskeletal research, as identified and defined by the student.
Application Deadline
July 15 - Acceptance notification in early August
Applications received after the deadline may still receive consideration.
Participating Programs
Anatomy & Cell Biology
Biochemistry
Biomedical Engineering
Chemical & Biochemical Engineering
Chemistry
Epidemiology & Biostatistics
Health and Rehabilitation Sciences
Kinesiology
Mechanical & Materials Engineering
Medical Biophysics
Microbiology & Immunology
Pathology
Physiology & Pharmacology