Professional Communication & Management GDip
Professional Communication & Management
Graduate Diploma, Professional Communication and Management (GDip)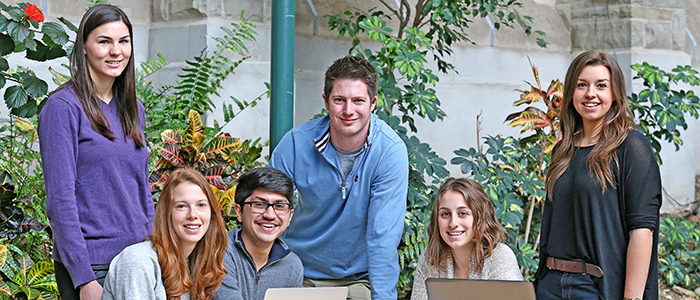 Program Websites
Program Contact
Jennifer Dungavell
(
jdungave@uwo.ca
)
Graduate Assistant
Graduate Diploma in Professional Communication and Management
Western University
Western Science Centre 168
London, Ontario N6A 5B7
t.
519-661-3617
Please note: The Professional Communication and Management Graduate Diploma (GDip) Program is not accepting applications for the 2018-19 academic year.

The Graduate Diploma (GDip) in Professional Communication and Management is a two term (8 month) course-based diploma program designed to enhance the professional skills of BA and BSc graduates, and to develop creative and visionary leaders.
Professional knowledge and skills are developed through coursework to serve students from all academic disciplines in a multidisciplinary context. The Diploma curriculum bridges the divide between any discipline (e.g. arts, humanities, social science, health sciences, science or engineering) and its application to the private, public and non-profit sectors, providing the management and communication skills needed to build successful careers. This program complements discipline-specific training students received in their undergraduate degree to gain a competitive career advantage.
Program Length
2 Terms (8 months) - September to May
Program Design
Full-time study
Course-based
Admission Requirements
4-year undergraduate degree in any discipline.
Minimum 70% average in the last two years of study.
Please note that this is a highly competitive program and meeting minimum admission requirements does not guarantee admission.
English Language Proficiency
Applicants whose first language is not English must furnish evidence of their proficiency in the use of the English language:
Application Deadline
Applicants are encouraged to apply as early as possible. Applications may be accepted after the deadline if space is available.