Geophysics MSc (course-based)
Geophysics
Master of Science (MSc (course-based))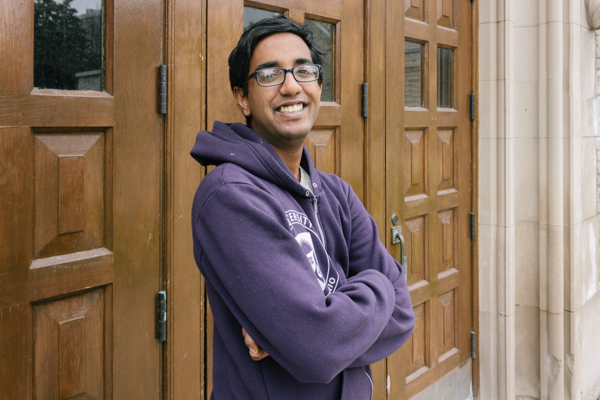 "Western University was a great option, as the Earth Sciences department has unique research opportunities and offers courses that are in line with my career goals."
Supervisors:
Gerhard Pratt and Sheri Molnar
Why did you come to Western for your graduate degree?
I came to Western for my graduate degree because of Western's excellent reputation and high level of student satisfaction, both of which I consider important. Western offers an accelerated MSc program which can be completed in one year of study, instead of two years, which suited me as my aim is to join the industry as soon as I graduate.
Where's your favourite place on campus?
There is a computer lab in the Earth Sciences department that I spend most of my time studying and doing work with friends and classmates.
Do you belong to any university or community groups?
I belong to a few clubs such as the Caribbean Students Organization (CSO), the Board Games at Western Club, the Chess Club and the French Club. I am a student member of many professional organizations such as the Society of Exploration Geophysicist (SEG), American Association of Petroleum Geologists(AAPG) and the Canadian Society of Petroleum Geologists(CSPG).
What is it about your grad program that enables you to thrive and be successful?
The professors are very friendly, helpful, and supportive of their students. My fellow colleagues are very intelligent and hardworking individuals and this inspires me to work harder. The courses offered suited my interests and the way the classes are taught allow for a fun and fulfilling learning experience. Do you engage in volunteer activities? I am currently a member of the Rotaract club and the Heart and Stroke Club at Western University. Last year, I also did some volunteering during the summer cleaning up rubbish from beaches in Trinidad.
Program Websites
Program Contact
Amy Wickham
(
es-ugrd-grd-coordinator@uwo.ca
)
Academic Program Coordinator
Department of Earth Sciences
Western University
Biological & Geological Sciences Building Rm 1026
London, Ontario N6A 5B7
t.
519-661-2111 ext. 84523
f.
519-661-3198
The course-based Masters in Geophysics (M. Geophys.) is designed to meet the growing demand in industry for highly-trained applied geophysicists. The course-based Masters students are an important component of Resource Geoscience Western, an endeavor that we are pursuing in collaboration with Industry Partners and which places us at the forefront of Earth Sciences in Canada across a broad range of applied Earth Science disciplines.
Program Length
Program Design
Full-time study
Course-based
Funding Information
Applicants (domestic and international) are encouraged to apply for the following scholarships:
Admission Requirements
Four-year degree in science, engineering, math, computer science, geography, or a related discipline from an accredited university.
Achieved at least a 75% average over the last two years of the Bachelor's degree.
Additional Requirements
Scans of transcripts from all post-secondary study completed.
A CV or resume.
Statement of Intent for graduate study.
Contact information for three referees, who will be asked to complete confidential letters of reference online.
English Language Proficiency
Applicants whose first language is not English must furnish evidence of their proficiency in the use of the English language:
We can offer a waiver of the English proficiency test when the applicant has completed at least one year of study at an accredited university where English is the medium of instruction. Waivers are not guaranteed and are judged on a case-by-case basis.
Application Deadline
Domestic and International Applicants:
Deadline is January 24 for a September 1 start date. We do not offer January or May admission to the one-year MSc.

Students can be accepted who apply after the January 24 deadline in exceptional circumstances. Please visit the department website for more information.
Acceptance notifications are processed on a rolling basis throughout the year beginning in March.
Fields of Research
Earth and Planetary Systems
Earth Evolution: Surface, Life and Climate
Resource Geoscience
Tectonic Processes and Crustal Dynamics