Ancient Philosophy
Master of Arts (MA)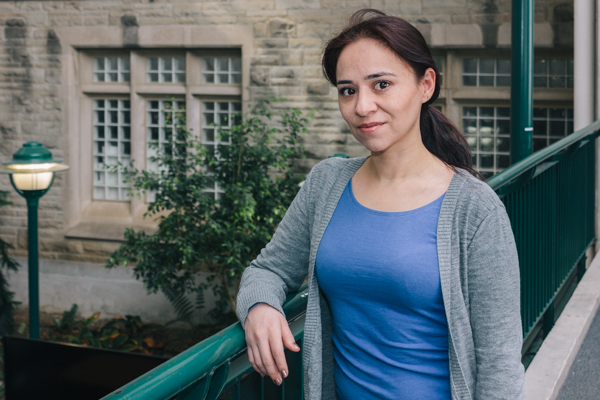 "The design of the Ancient Philosophy program provides exactly the kind of education I was looking for, due to its strong collaboration between Philosophy and Classical Studies."
Describe your research in 100 words or less.
I wrote about Aristotle's concept of pleasure, focusing on his psychological perspective. What is different about my research is that pleasure is normally addressed in the ethical context, where people wonder about the importance and role of pleasure in education. Instead, my research addresses the question on the nature of pleasure: what it is, why we experience it, what we mean when we say that we are pleased by 'X'.
What's the best advice you could give to someone considering applying to your graduate program?
Learning Ancient Greek is tough; do not get frustrated if you feel you are not making a huge progress.
Where's your favourite place on campus to work/study/research?
The common lounge. I normally get a coffee and sit there with headphones. I like people around me and open spaces, even when I need to focus on my work.
What is your "dream" career?
I want to be a Professor for undergraduate and graduate courses in Ancient Philosophy, especially in Metaphysics.
Have you worked as a TA or RA?
Yes, I was TA every term. Especially as an international student, being a TA helps to understand more about education in general: how professors grade, their expectations, and the common background they assume we got from undergraduate studies.
What one thing would you like people to know about you?
When I care about somebody, I express it by feeding him/her. That is why sometimes I bring snacks to school and share with friends.
Program Websites
Program Contact
Meghan Magowan
(
mtalbot3@uwo.ca
)
Administrative Assistant
Department of Philosophy
Western University
Stevenson Hall Rm 3148
London, Ontario N6A 5B8
t.
519-661-2111 ext. 83453
f.
519-661-3922
The Master of Arts in Ancient Philosophy is an interdisciplinary program jointly sponsored by the Departments of Philosophy and Classical Studies that combines graduate seminars in ancient philosophy with language courses in Greek and Latin. The overall objective of the program is to prepare students for doctoral research, whether through a Philosophy or Classics Department, by providing them with the philosophical and philological skills necessary for conducting research in Ancient Philosophy. Normally students who graduate from the program will be able to read at the 4000-level in at least one of the two languages and at the 2000-level in the other language. In addition, students will acquire graduate level of knowledge in at least one of the major ancient philosophical traditions (Plato, Aristotle, Stoics, and Epicureans), as well as a critical awareness of the main philosophical problems that shape the broader discipline.
Program Length
Program Design
Full-time study
Course-based, project-based
Funding Information
Applicants (domestic and international) are encouraged to apply for the following scholarships:
Admission Requirements
Honours Bachelor's degree in either Philosophy or Classics.
Average grade of B+ or higher in the last two years or last ten half courses of the undergraduate degree.
Students will also normally be required to have taken courses in at least one ancient language (Greek or Latin) completed at the equivalent of the 2000-level courses offered at Western. In exceptional circumstances, students will be considered for admission with language preparation completed at the 1000-level.
Additional Requirements
Recent writing sample (10-15 pages).
English Language Proficiency
Applicants whose first language is not English must furnish evidence of their proficiency in the use of the English language:
Application Deadline
January 7 - Acceptance notification in February
Note: Applications may continue to be considered through the summer.