Health and Rehabilitation Sciences MClSc / PhD
Health and Rehabilitation Sciences
Doctor of Philosophy (MClSc / PhD)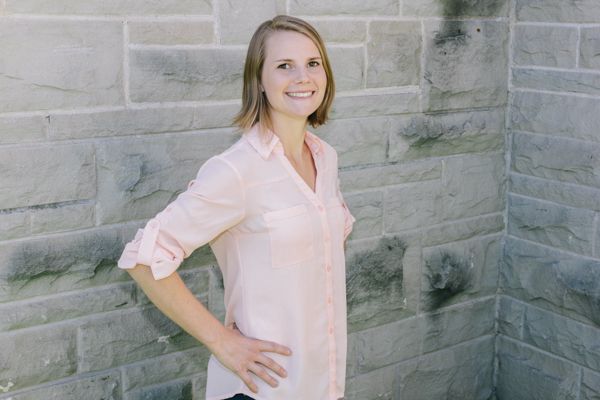 "The combined MClSc/PhD program offers a unique opportunity to be simultaneously immersed in rigorous, hands-on clinical training and cutting edge research. I was trying to find a way to incorporate both into my trajectory when I realized Western had exactly what I was looking for."
Supervisor: Scott Adams
What is it about your grad program that enables you to thrive and be successful?
The people – I have an incredible supervisor who supports and encourages me, and I am surrounded by a diverse group of expert faculty across the health sciences, as well as access to administrative support staff who go above and beyond to help students when they don't understand something. Also the program is dynamic and challenging - you are constantly learning new information about clinical practice (in your courses, observations, or practicums) that make you look at your research in a slightly different light every day.
Where is "home" for you?
Ashfield, a tiny town in rural Massachusetts.
Describe your research.
I study how acoustic aspects of speech production are related to intelligibility (how understandable a person is when using speech to communicate) for people with Parkinson's disease. Many people with Parkinson's have a speech disorder that leads to symptoms such as a quiet, breathy harsh voice and imprecise sounding speech. Acoustic measurement provides an objective, fine-grained description of speech sounds that can help explain why someone's speech is hard to understand. I'm interested in how acoustic variables are modulated by aspects of the disease, treatments, and ways of speaking so we can better individualize patient care.
What idea, suggestion, or comment would you like to share with the Western graduate community?
One thing that is really difficult for graduate students to do (myself included) is get out of our lab bubble and meet other students, However, I think that it is so important in terms of finding support, solidarity, advice, and even networking and collaborating down the road.
Program Websites
Program Contact
Nancy Inchley
(
ninchley@uwo.ca
)
Graduate Assistant
Health and Rehabilitation Sciences Program
Western University
Elborn College Rm 1021A
London, Ontario N6G 1H1
t.
519-850-2453
f.
519-850-2469
The graduate program in Health and Rehabilitation Sciences at Western University provides both master's and PhD students with a unique opportunity to explore issues and ideas related to the health of Canadians, and others, in an inter-disciplinary forum. The program involves research that will contribute to the theoretical and practical knowledge of health and rehabilitation disciplines along with contributions to new, emerging aspects of health and rehabilitation that cross disciplinary boundaries. The interdisciplinary nature of our program allows students to tailor their studies to specific interests. The depth and breadth of the nine fields of study allow us to offer a unique and innovative graduate program.
The Health and Rehabilitation Sciences program also offers four combined clinical programs which include; physical therapy, occupational therapy, audiology, speech-language-pathology.


The Own Your Future doctoral professional development program creates career-ready graduates with the Power Skills necessary to excel in their studies and achieve their future goals. Assess your own strengths and opportunities for growth and focus on what you want to get out of your time here at Western. To learn more, visit www.uwo.ca/ownyourfuture.
Program Length
Program Design
Full-time study
Clinical and thesis-based
Funding Information
Applicants (domestic and international) are encouraged to apply for the following scholarships:
Admission Requirements
Master's degree from an accredited university and evidence of research potential.
Achieved at least a 70% average in the master's degree.
Note: Equivalent or professional qualifications may be considered based on the standards of the discipline or profession.
Additional Requirements
Combined Clinical Programs require the above-listed Doctoral requirements along with clinical prerequisites:
One half-course from each of the following areas:
Developmental Psychology or Normal Lifespan Development
Statistics
Human Anatomy, Human Physiology, Physiological Psychology or Neuroscience
Social Science/Psychology/Linguistics covering basic human processes important for communication sciences and disorders. Acceptable courses include: Physiological Psychology, Neuropsychology, Sensation, Perception, Language and Memory, Language Acquisition, Phonetics, Phonology, Pragmatics or Introduction to Speech, Language and/or Hearing Sciences or Disorders.
We strongly encourage students to have completed at least one course in mathematics, physics or engineering science.
You are required to make contact with a supervisor who agrees to take you as a student. When you submit an application, we confirm with the supervisor named in the application process. Please consult our WEBSITE to see the list of supervisors and their areas of research.
English Language Proficiency
Applicants whose first language is not English must furnish evidence of their proficiency in the use of the English language:
Application Deadline
Acceptance notification begins in March.
Fields of Research
Health and Aging
Health Professional Education
Health Promotion
Hearing Science
Measurement and Methods
Occupational Science
Physical Therapy
Rehabilitation Sciences
Speech and Language Science