Research for Policy and Evaluation MA
Research for Policy and Evaluation
Master of Arts (MA)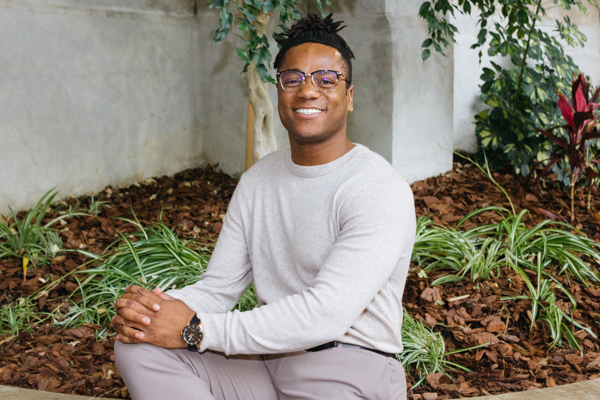 "I know the Western environment and culture – the faculty does not treat me as a number, and values my education and well-being. Additionally, the accessibility services offered at Western were at the top of the list when I decided to attend. This institution succeeded in meeting my requirements."
Describe your research.
I am researching anti-racism policies within the education system and government systems. I am particularly looking at the policymaking process of both institutions, and seeking to contribute to their efforts to enact anti-racism policies.
What suggestion do you have for the Western graduate community?
Find time to socialize and meet new people at Western. The campus continues to grow and enroll more people from all backgrounds. Attend the Society of Graduate Students (SOGS) weekly events and invite people from your program. Take the time to chat about topics other than research, and learn new things about your peers.
Have you worked as a Research Assistant (RA)?
Working as an RA has helped improve my data collection skills, specifically performing semi-structured interviews. This opportunity has benefited my research design skills as I learn from mentors with professional experience. I use the advice they provide and put it towards my work.
What is it about your grad program that enables you to thrive?
The professors' support and guidance have been a massive part of my success in the program. Being a person with a disability has its daily challenges, especially with academic tasks and assignments; however, the professors are accommodating, and help guide my work onto the right path.
Where is "home" for you?
"Home" is in the kitchen of my graduate program with my fellow peers. As we eat, de-stress, laugh, and learn about each other's lives or research interests, we develop bonds and connections that will not break.
Program Websites
Program Contact
Leha Huffman
(
mrpe@uwo.ca
)
Administrative Officer (NEST)
Network for Economic and Social Trends (NEST)
Western University
Social Science Centre Rm 6220
London, Ontario N6A 5C2
t.
519-661-2111 ext. 88204
The Master of Arts in Research for Policy and Evaluation is a one-year (three term) Professional Master's program with an emphasis on developing social science research skills that can be applied to policy and program development and evaluation.
Through courses and a four-month internship, the program focuses on collecting, analyzing, interpreting, and communicating research for practical applications in policy and program development and enhancement. The emphasis is on developing quantitative and qualitative research skills for practical applications outside of academia.
Graduates will be able to apply their knowledge in a variety of settings, including in government, not-for-profit, and private sectors.
We aim to build an inclusive student body in terms of background and perspective, including a blend of recent graduates and those drawn from the workforce.
Program Length
Program Design
Full-time study
Course-based
Tuition and Fees
Tuition and fee schedules (per term) are posted on the Office of the Registrar's website at http://www.registrar.uwo.ca/student_finances/fees_refunds/fee_schedules.html
Admission Requirements
An undergraduate degree or equivalent in any Social Science discipline.
A strong academic history with a minimum B average achieved during the two most recent years of academic study (some consideration will be given to equivalent work experience on a case-by-case basis).
Online application.
Unofficial post-secondary institution(s) transcripts. One copy of official/certified transcripts will be required if applicants receives an admissions offer.
Professional resumé (two page maximum).
Two reference letters, with at least one from an academic referee.
A strong level of English proficiency.
English Language Proficiency
Applicants whose first language is not English must furnish evidence of their proficiency in the use of the English language by a satisfactory* achievement within the last two years in one of the following:
The Test of English as a Foreign Language (TOEFL). The minimum acceptable score is 86, with no individual score below 20 for the internet based version; 213 for the standard electronic version; or 550 for the paper and pencil version, although some programs require a higher minimum score. [Western's TOEFL ID is 0984].
The International English Language Testing Service Academic (IELTS Academic). The minimum acceptable score is 6 out of 9. The IELTS is offered in 6 test centres in the US and 3 in Canada.
Students who are required to present evidence of proficiency in English must make their own arrangements to write the TOEFL, IELTS and to have the official results sent directly to the School of Graduate and Postdoctoral Studies by the testing agency.
Application Deadline